Understanding British ring sizes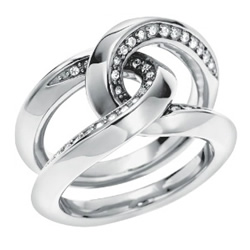 The British ring size system differs from those used in the US and Asia in that the sizes go from A-Z rather than being numeric values. The system also uses a number of 'oversizes' denoted as Z+1, Z+2 etc and half sizes A½, B½ etc. The system dates from early Victorian times when jewellers started producing stock sized rings.
The last British standard BS6820, issued in 1987, defines the ring sizes by inner circumference in mm. Each full size change being an increase of 1.25 mm in inner circumference, thus each half size is an increase of 0.625mm in inner circumference. Technically BS6820 has been superseded by BS28653 defining ring size by inner circumference but British ring sizes A-Z are still in general use.
British ring size dimensions in inches & millimetres
Size
Inner Diameter
Inner Circumference
in
mm
in
mm
A
0.470
11.94
1.476
37.500
A½
0.478
12.14
1.501
38.125
B
0.487
12.33
1.526
38.750
B½
0.493
12.53
1.550
39.375
C
0.501
12.73
1.575
40.000
C½
0.509
12.93
1.599
40.625
D
0.517
13.13
1.624
41.250
D½
0.525
13.33
1.649
41.875
E
0.533
13.53
1.673
42.500
E½
0.540
13.73
1.698
43.125
F
0.548
13.93
1.722
43.750
F½
0.556
14.13
1.747
44.375
G
0.564
14.32
1.772
45.000
G½
0.572
14.52
1.796
45.625
H
0.580
14.72
1.821
46.250
H½
0.587
14.92
1.845
46.875
I
0.595
15.12
1.870
47.500
I½
0.603
15.32
1.895
48.125
J
0.611
15.52
1.919
48.750
J½
0.619
15.72
1.944
49.375
K
0.627
15.92
1.969
50.000
K½
0.634
16.11
1.993
50.625
L
0.642
16.31
2.018
51.250
L½
0.650
16.51
2.042
51.875
M
0.658
16.71
2.067
52.500
M½
0.669
16.91
2.092
53.125
N
0.674
17.11
2.116
53.750
N½
0.681
17.31
2.141
54.375
O
0.689
17.51
2.165
55.000
O½
0.697
17.71
2.190
55.625

Size
Inner Diameter
Inner Circumference
in
mm
in
mm
P
0.705
17.90
2.215
56.250
P½
0.713
18.10
2.239
56.875
Q
0.721
18.30
2.264
57.500
Q½
0.728
18.50
2.288
58.125
R
0.736
18.70
2.313
58.750
R½
0.744
18.90
2.338
59.375
S
0.752
19.10
2.362
60.000
S½
0.760
19.30
2.387
60.625
T
0.768
19.50
2.411
61.250
T½
0.775
19.70
2.436
61.875
U
0.783
19.89
2.461
62.500
U½
0.791
20.09
2.485
63.125
V
0.799
20.29
2.510
63.750
V½
0.807
20.49
2.534
64.375
W
0.815
20.69
2.559
65.000
W½
0.822
20.89
2.584
65.625
X
0.830
21.09
2.608
66.250
X½
0.838
21.29
2.633
66.875
Y
0.846
21.49
2.657
67.500
Y½
0.854
21.68
2.682
68.125
Z
0.862
21.88
2.707
68.750
Z½
0.869
22.08
2.731
69.375
Z+1
0.877
22.28
2.756
70.000
Z+2
0.893
22.68
2.805
71.250
Z+3
0.909
23.08
2.854
72.500
Z+4
0.924
23.47
2.904
73.750
Z+5
0.940
23.87
2.953
75.000
Z+6
0.956
24.27
3.002
76.250
Z+7
0.971
24.67
3.051
77.500
Z+8
0.987
25.07
3.100
78.750